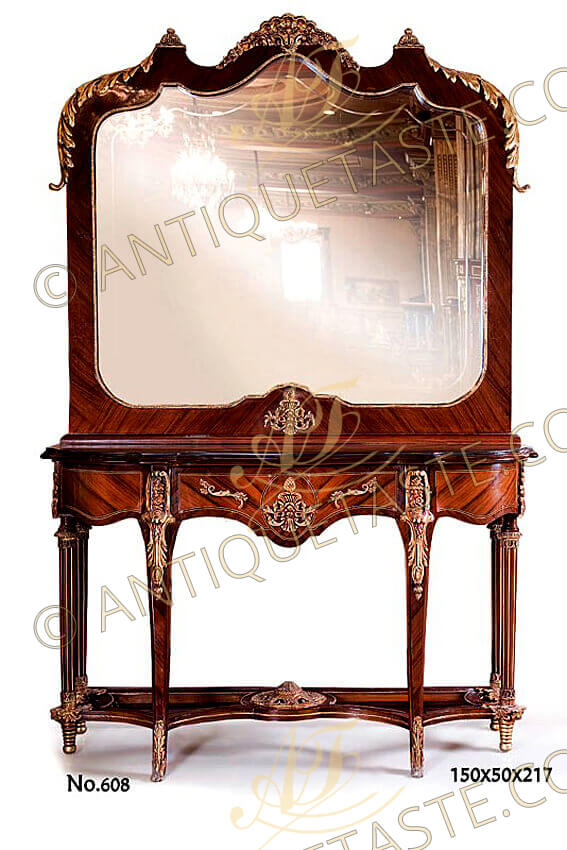 Ref#FC-608 | Description
A grandiose French Transitional Louis XV / Louis XVI style ormolu-mounted palisander wood veneer inlaid console with matching mirror,
The mirror waved top crested with a fine chiseled ormolu foliate shell, flanked with two ormolu acanthus flipped cones and cornered with exquisite large ormolu laurel leaves with turned terminals. The mirror internally framed with a hammered ormolu band and centered at the bottom with a marvelous ormolu mount capuchon of foliage works and acorn finial,
The mirror is resting a scalloped shaped eared frieze with a central large drawer ornamented with fine foliate ormolu handled and central capuchon as the above in a sans traverse palisander veneer inlay with filet pattern and flanked with two faux curved drawers,
The lower console part is raised on six legs, the front slender tapered capriole legs are astonishingly headed with richly chased ormolu chutes and terminated with delicate foliate ormolu sabots, The side four fluted legs are headed and terminated with foliate ormolu works and resting on ormolu spiral-turned supports.
The six legs are joined by a double rounded geometric shaped stretcher centered with a circular pierced ormolu mount and decorated with an ormolu strip.
Ref#FC-608
217 x 150 x 50 cm
Tags