Under Louis XIV ébénistes introduced a decorative element that became very widespread and remained in use throughout the 18th century, namely gilded and engraved bronze mounts. These served to protect the most delicate parts of the furniture, i.e. locks, edges and legs. Some furniture dating from this period is also decorated with inlaid bronze, and occasionally even wood carving was replaced by chased and gilded bronze classical motifs such as medallions and mascarons.
Although this decoration was typical of furniture made by ébénistes, it was carried out not by them but by specialist fondeurs-ciseleurs, who worked the metals before they were gilded. Only rarely, and then by royal license, did ébénistes make bronze embellishments for their own furniture. It contravened guild rules and led to countless disputes and court cases between members of different craft guilds, the case of ébéniste Charles Cressent being the most famous.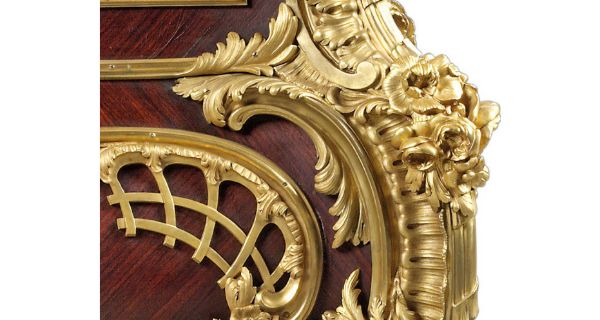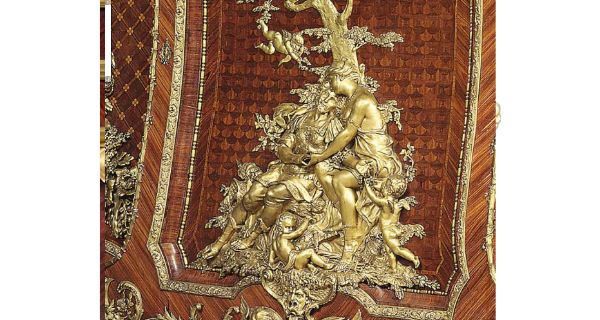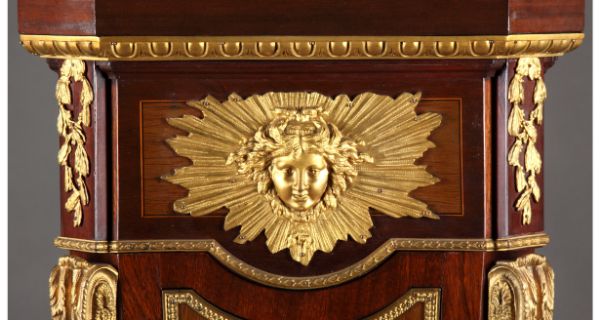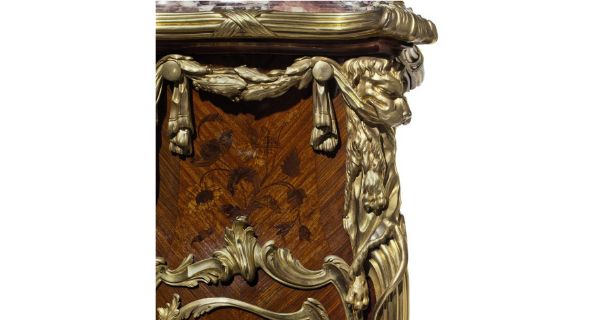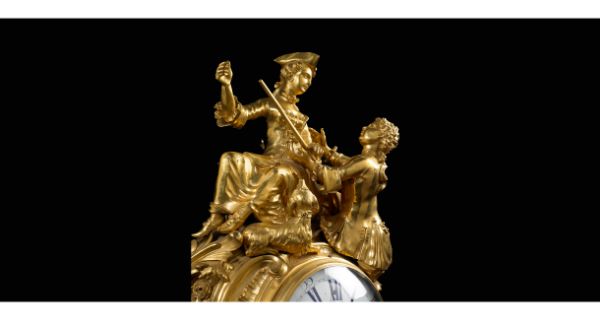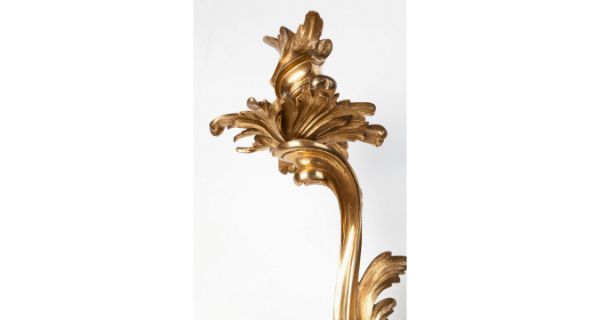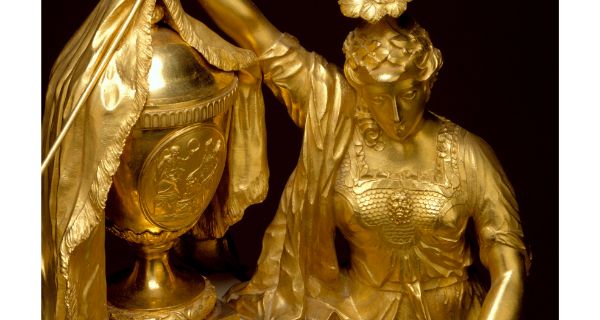 Ormolu is an 18th-century English term for applying finely ground, high-karat gold in a mercury amalgam to an object of bronze. The mercury is driven off in a kiln. The French refer to this technique as bronze doré, in English gilt bronze.
The manufacture of true ormolu employs a process known as mercury-gilding or fire-gilding, in which a solution of nitrate of mercury is applied to a piece of copper, brass, or bronze, followed by the application of an amalgam of gold and mercury. The item was then exposed to extreme heat until the mercury burned off and the gold remained, adhered to the metal object. Most mercury gilders died by the age of 40 due to exposure to the harmful mercury fumes.
Mercury gilding was outlawed from the 19th (in France) or 20th centuries because of its health risks, and electroplating is the most common modern technique. Ormolu techniques are essentially the same as those used on silver, to produce silver-gilt (also known as vermeil). A later substitute of a mixture of metals resembling ormolu was developed in France and called pomponne, though, confusingly, the mix of copper and zinc, sometimes with an addition of tin, is technically a type of brass. From the 19th century the term has been popularized to refer to gilt metal or imitation gold. Gilt-bronze is found from antiquity onwards across Eurasia, but especially in Chinese art, where it was always more common than silver-gilt, the opposite of Europe.
The principal use of ormolu was for the decorative mountings of furniture, clocks, lighting devices, and porcelain. The great French furniture designers and cabinetmakers, or ébénistes, of the 18th and 19th centuries made maximum use of the exquisite gilt-bronze mounts produced by fondeurs-ciseleurs, or "founders and finishers", such as the renowned Jacques Caffieri, whose finished gilt-bronze pieces were almost as fine as jeweler's work. Similarly fine results could be achieved for lighting devices, such as chandeliers and candelabra, as well as for the ornamental metal mounts applied to clock cases and even ceramic pieces. In the hands of the Parisian marchands-merciers, the precursors of decorators, ormolu or gilt-bronze sculptures could be used for bright, non-oxidizing fireplace accessories or for Rococo or Neoclassical mantel or wall-mounted clock cases (a specialty of Charles Cressent), complemented by rock-crystal drops on gilt-bronze chandeliers and wall-lights.
The bronze mounts were cast by lost wax casting, and then chiseled and chased to add detail. Rococo gilt-bronze tends to be finely cast, lightly chiseled, and part burnished. Neoclassical gilt-bronze is often entirely chiseled and chased with extraordinary skill and delicacy to create finely varied surfaces.
Chinese and European porcelains mounted in gilt-bronze were luxury wares that heightened the impact of often-costly and ornamental ceramic pieces sometimes used for display. Chinese ceramics with gilt-bronze mounts were produced under the guidance of the Parisian marchands-merciers, for only they had access to the ceramics (often purchased in the Netherlands) and the ability to overleap the guild restrictions. A few surviving pieces of 16th-century Chinese porcelains respectfully mounted in contemporary European silver-gilt, or vermeil, show where the foundations of the later fashion lay.
From the late 1760s, Matthew Boulton and James Watt of Birmingham produced English ormolu vases and perfume-burners in the latest Neoclassical style. Though the venture was never a financial success, it produced the finest English ormolu. In the early 19th century fine English ormolu came from the workshops of Benjamin Lewis Vulliamy.
In France, the tradition of neoclassic ormolu to Pierre-Philippe Thomire was continued by Lucien-François Feuchère. Excellent ormolu in rococo and neoclassical styles was produced in Paris by Beurdeley & Cie., and rococo gilt-bronze is characteristic of the furniture of François Linke.
However, ébénistes did undertake decoration in pietre dure, either flat or in relief. This is a technique developed in Florence for laying pieces of short stones in patterns, with no joints visible between the pieces.