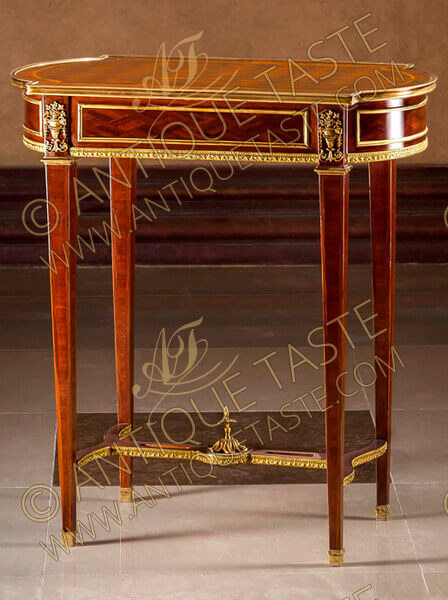 Ref#T-1782 | Description
A dignified French mid 19th century Louis XVI Neo-classical style gilt-ormolu-mounted and parquetry inlaid Table À Ouvrage after the model by Maison Kriéger
The oval breakfront top has a crossbanded veneer and parquetry inlays within a molded gilt-ormolu gallery above a conforming sectional frieze with one drawer and borders of ormolu filets, separated by block ornamented by Neo-classical style gilt-ormolu mounts of beaded and reeded vase issuing floral Rinceaux style and bouquet of blossoming foliate branches. The apron is bordered to the bottom with exquisitely chased ormolu designed gallery,
Raised by slender tapered legs with ormolu trim finished with wrap around ormolu sabots and top ormolu crown. The legs are joined by a pierced waved sides stretcher elegantly adorned by a beaded and foliate ormolu trim with a central ormolu foliate movements final.
Ref#T-1782
80-68-44cm
MAISON KRIÉGER
In 1826 Antoine Kriéger and his brother Nicolas Kriéger started Maison Kriéger in Paris. Maison Krieger won prizes and receiving a medal at the Exposition des produits de l'Industrie in 1849 and in the Universal Exhibitions of 1851 and 1855. In 1850 the firm was re-formed as Antoine Krieger et Cie, and then when Antoine Krieger died in 1856, his son-in-law began running the company and decided to change the name to Cosse-Racault et Cie. In 1880 the name was changed again to Krieger, Damon et Cie when the firm merged with Damon et Colin and was then located at 74, Rue Du Faubourg-Saint-Antoine. However Christopher Payne illustrates an account of 1912 (19th Century European Furniture, 1981, p.38) under the name Krieger, the firm presumably having gone through several takeovers resuming its former and well-established name.
Maison Krieger created many pieces in Louis XV and Louis XVI and numerous furniture styles, as well as 18th century and Empire designs. Maison Krieger is recorded to have been an active client of François Linke and the firms label can be found on Linke pieces.
Tags