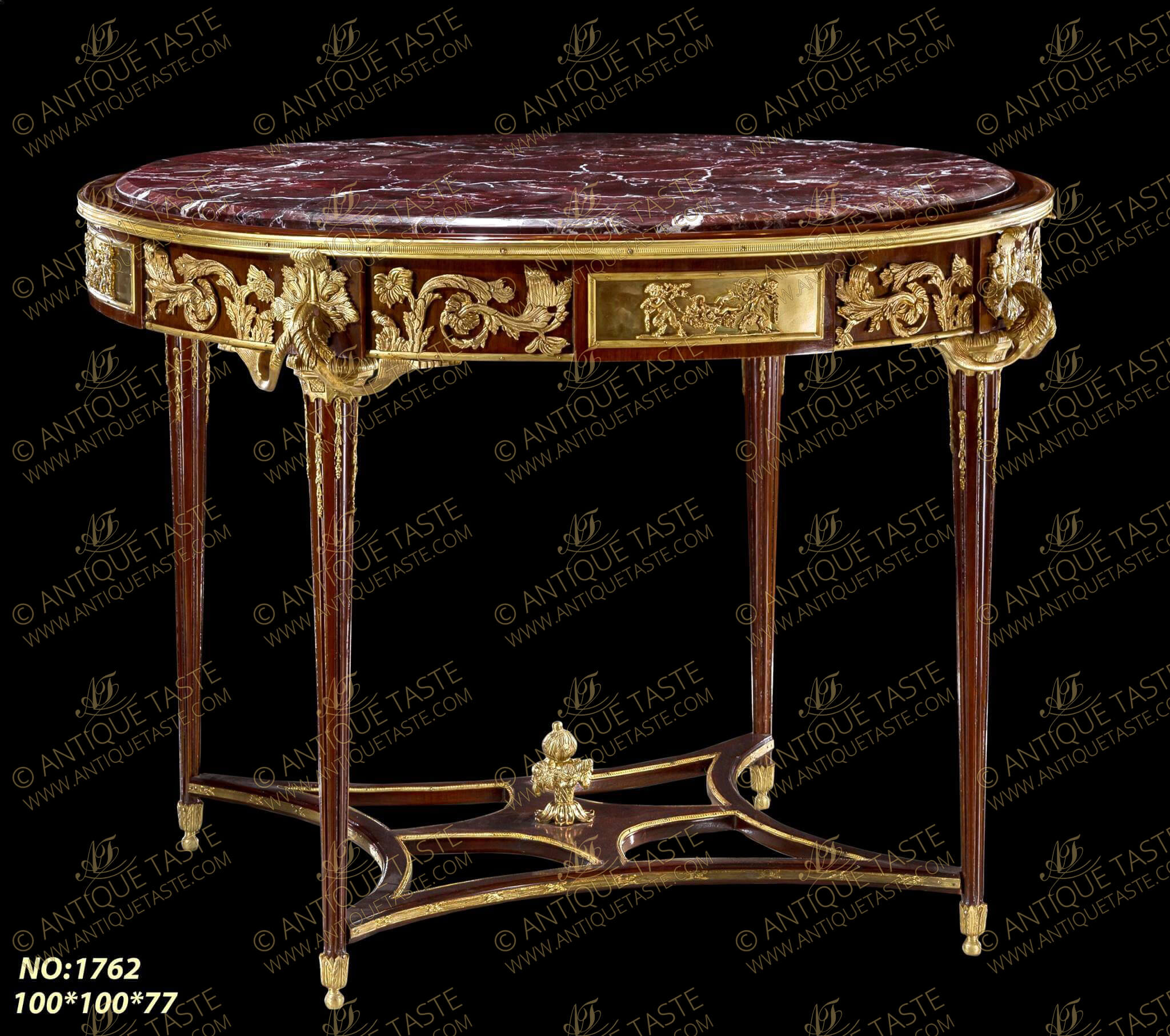 Ref#T-1762 | Description
An important louis xvi style Grand guéridon, after the model made by François Linke after the celebrated model of the Table des Muses commissioned by Pierre-Elisabeth de Fontanieu for his use in the Hotel du Garde-meuble in 1771 and made by Jean-Henri Riesener
We produced this table with some modifications to Linke Grand guéridon Louis XVI, pietment de la table Muse, dessus marbre assemblés, bronzes dorés mats, As Linke states in his title, this table is a creation by Linke based on the celebrated Table des Muses commissioned by Pierre-Elisabeth de Fontanieu for his use in the Hotel du Garde-meuble in 1771 and made by Jean-Henri Riesener.
The inset marble top withing a wooden ormolu bordered frame above the frieze centered with a an ormolu tablet embellished with finely cast gilt-ormolu mounts depicting bacchanalian cherubs at play, surrounded with ormolu rococo style scrolled foliate motifs,
Raised on tapering fluted ormolu pendants decorated legs terminating in foliate-cast sabots joined by a pierced stretcher centered with and ormolu urn of prosperity and edged with ormolu strip-works,
Each leg surmounting block with an acanthus mount issuing fine chiseled scrolled acanthus and foliage.
Ref#T-1762
100 x 100 x77cm
François Linke
Francois Linke (1855-1946) was arguably the leading Parisian cabinetmaker of the Belle Epoque the glittering age of fashionable French society, whose influence was felt throughout the world.
Determined to outshine the competition at the Exhibition, Linke had set about creating the most ambitious pieces he could envisage, and more extravagant than had ever been displayed before. The items he exhibited marked a transition from the historicist interpretation of Louis XV and Louis XVI styles, an interpretation that was the mainstay of his nearest rivals, to something startlingly new and vital in its immediacy. Together with Leon Message he developed a new style for the 1900 Exhibition that paid homage to the Louis XV rococo in the fluidity of its approach, but an approach fused with the lively flowing lines of the contemporary and progressive 'art nouveau'.
This risky endeavour was a resounding success, and with his reputation established, La Maison Linke became the pre-eminent furniture house until outset of the Second World War. The technical brilliance of his work and the artistic change that it represented was never to be repeated. His showrooms expanded into prestigious premises in Paris, in the Place Vendome as well as the Faubourg St. Antoine where his workshop had been established. He embarked on many important commissions in the years up to the outbreak of the First World War, making and designing furniture for leading international industrialists and bankers.
After the 1914-1918 World War, Linke undertook the extraordinary commission to furnish the Ras al-Tin Palace in Alexandria for King Fuad of Egypt, possibly the largest single furniture commission ever conceived, eclipsing even Versailles. Linke flourished and remained active until the middle years of the 1930s and died in 1946.
Jean-Henri Riesener
Jean-Henri Riesener, (born July 4.1734, Gladbeck, Münster [Germany]—died Jan. 6.1806, Paris, France), the best-known cabinetmaker in France during the reign of Louis XVI. Riesener was the son of an usher in the law courts of the elector of Cologne. After moving to Paris he joined the workshop of Jean-François Oeben in 1754, and, when Oeben died in 1763, Riesener was put in charge of the workshop and later married his master's widow. He made his name by completing and delivering to Louis XV the famous bureau du roi ("king's desk"), begun by Oeben. In 1774 he was made royal cabinetmaker and from then onward was the regular supplier of furniture to the queen, Marie-Antoinette. Although he was one of the most versatile of cabinetmakers, his services were in little demand during the French Revolutionary period because of his political status. Riesener used both European and exotic woods, with a preference for mahogany; he occasionally used lacquer and mother-of-pearl to enrich the surfaces of his works. His finished style was pure Louis xvi, with its rectilinear side view and harmonious ornamentation.
Tags