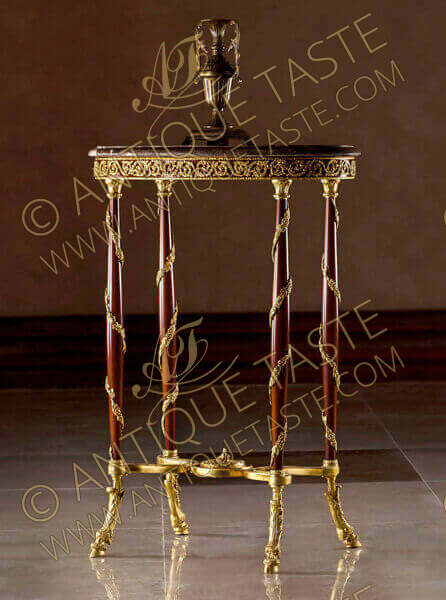 Ref#T-1294 | Description
A sensational and delicate museum quality 19th century French Louis XVI style gilt-ormolu-mounted oval shaped guéridon table after the model by Adam Weisweiler
The oval shaped marble top above a conforming frieze finely adorned with intricately chiseled gilt-ormolu guilloche of interlacing scrolling vines,
Resting on four slender inflated colonnettes headed with gilt-ormolu tobacco leaf capitals and spiral foliate gilt-ormolu garlands extending to the elaborately curved and entwined gilt-ormolu beaded stretcher with a fine central eternal flame,
All above finely detailed and shaped gilt-ormolu pied-de-biche cast feet.
Ref#T-1294
74-72-55cm
ADAM WEISWEILER (1744-1820)
Adam Weisweiler is one of the most pre-eminent ébénistes of the 1700s of a German born, a Paris-based cabinetmaker whose neoclassical-style furniture, often set with lacquer or decorative panels, found favour at several European royals courts, including George IV's (1762–1830)
Born in Germany in 1744, Weisweiler emigrated to Paris after his training and there became a maître-ébéniste (master cabinetmaker) in 1778. He was employed by the marchand-mercier (dealer) Dominique Daguerre, who sold his work to patrons across Europe, including Marie-Antoinette and the King of Naples. George, Prince of Wales (later George IV) acquired several pieces of Weisweiler's furniture for Carlton House, his private residence, in the late 1780s. The works would later be refurbished by Morel and Seddon for the king's new apartments at Windsor Castle, which were created in the early nineteenth century.
Weisweiler occasionally combined his restrained, neoclassical-style furniture with more exuberant pietre dure panels or Sèvres porcelain plaques. Pietre dure (literally 'hard stones') is a technique perfected in late sixteenth-century Florence, Rome and Prague, in which coloured stones are inset to create two- or three-dimensional images One cabinet acquired by George IV is set with three striking pietre dure panels of flowers and birds. Other pieces by Weisweiler incorporate superb mounts, with figures on the legs or corners. One table for George IV's Chinese Room at Carlton House is supported by four polychrome metal figures in the Chinese style which the Prince Regent helped to revive.
Weisweiler survived the French Revolution and supplied furniture to the Bonaparte family before his death in Paris in 1820.(The Royal Collection | Getty Museum
Tags