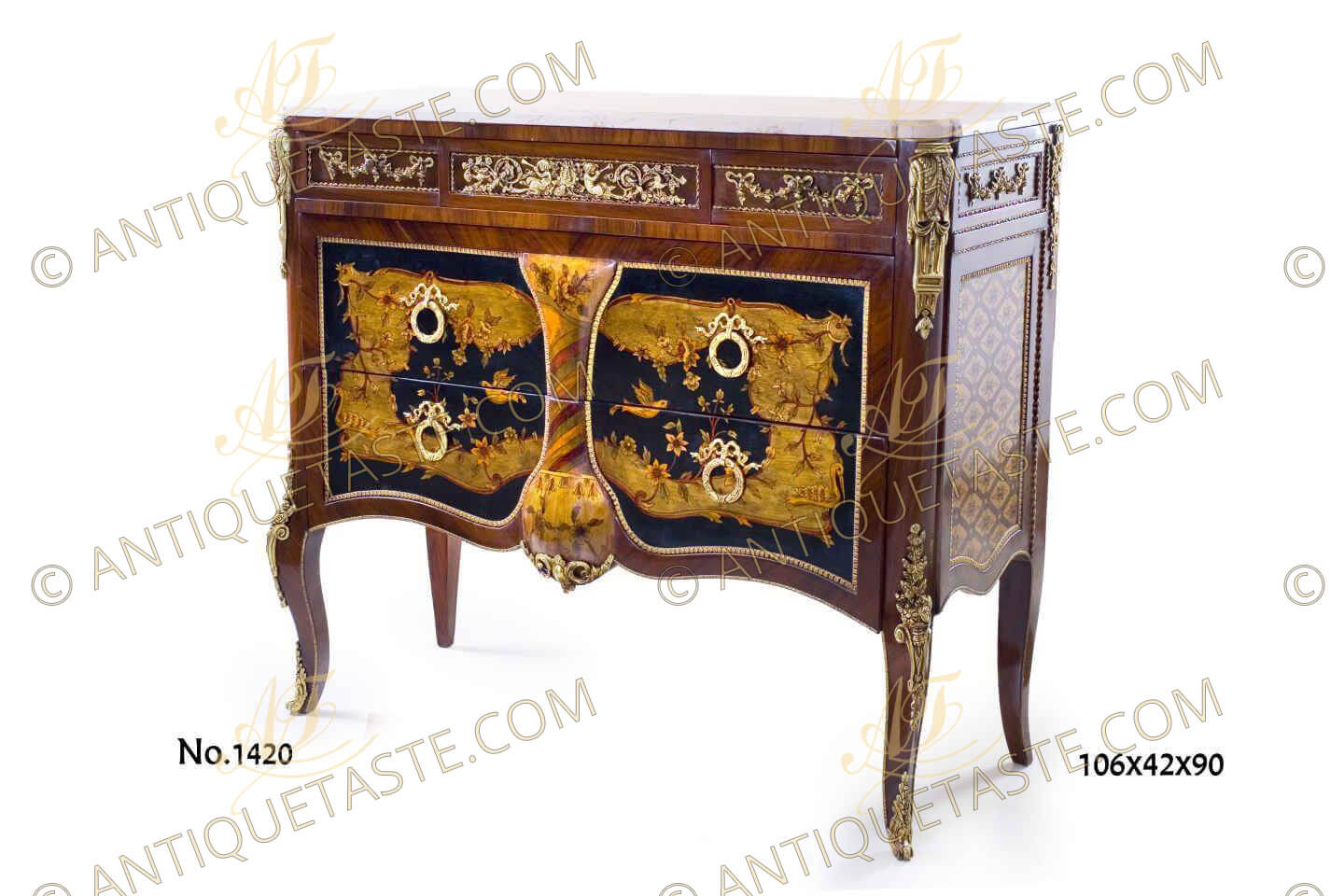 Ref#1420 | Description
A sensational French Louis XV ormolu-mounted parquetry inlaid Chinoiserie style commode,
The eared marble topped above a conforming frieze with central drawers ornamented with intricate and pierced ormolu mount with two cherubs blowing trumpet amidst foliate and scrolled movements, flanked by two faux drawers decorated with ribbon tied festoons, all within a twisted ormolu borders,
Below are two large deep drawers with sans traverse Chinoiserie style scene of lake, swans, flying birds and gardens, with ribbon tied ring handles and dentil ormolu border, separated by a central inflated part with foliage marquetry pattern terminating with pierced ormolu cabuchon with foliate scrolled mount,
The cut corners display on top a fine and richly chiseled ormolu mounts of acanthus volute on drapes hung on fluted façade above a pine cone, the lower part adorned with a magnificent large ormolu mount of blossoming flower bouquet on volute chutes rest on the cabriole leg hip. The sides with a repeated upper ormolu design as the forepart above a diamond parquetry pattern with flower rosettes,
The lower contour of the commode with a beaded ormolu band runs on the cabriole legs that terminate with detailed foliate ormolu cast turned sabots.
Ref#1420
106 x 90 x 42 cm
Chinoiserie Style
Chinoiserie is derived from the French word Chinois, meaning "Chinese") is the European interpretation and imitation of Chinese and East Asian artistic traditions, especially in the decorative arts, garden design, architecture, literature, theater, and musical performances. First appearing in the 17th century, this trend was popularized in the 18th century due to the rise in trade with China and East Asia. As a style, chinoiserie is related to the Rococo style. Both styles are characterized by exuberant decoration, asymmetry, a focus on materials, and stylized nature and subject matter that focuses on leisure and pleasure, while chinoiserie focuses on subjects that were thought to be "Chinese."
"Chinoiserie entered European art and decoration in the mid-to-late 17th century; the work of Athanasius Kircher influenced the study of orientalism. The popularity of chinoiserie peaked around the middle of the 18th century when it was associated with the rococo style and with works by François Boucher, Thomas Chippendale, and Jean-Baptist Pillement. It was also popularized by the influx of Chinese and Indian goods brought annually to Europe aboard English, Dutch, French, and Swedish East India Companies.Though chinoiserie never fully went out of fashion, it declined in Europe by the 1760s when the neoclassical style gained popularity, though remained popular in the newly formed United States through the early 19th century. There was a revival of popularity for chinoiserie in Europe and the United States from mid-19th Century through the 1920s, and today in elite interior design and fashion.
Tags