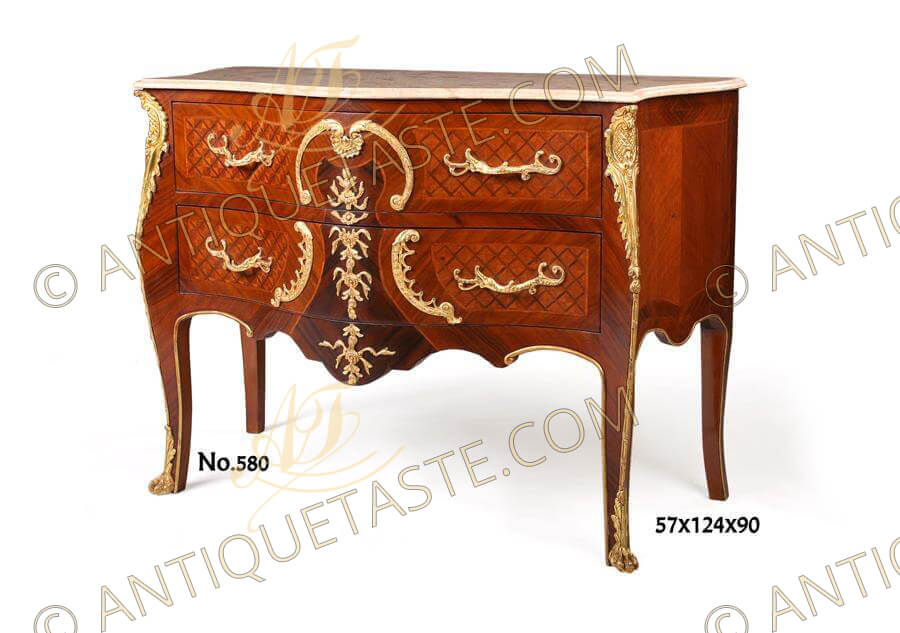 Ref#C580 | Description
An exceptional French Regency Rococo style ormolu-mounted parquetry inlaid commode à Vantaux after the model by Charles Cressent, Paris, circa 1730, executed by Frederic-Louis Durand and Fils,
With a serpentine shaped marble top above a bombé front with two conforming long drawers sans traverse and trellis parquetry veneer inlaid ornate at the top by an ormolu shell figure flanked by ormolu C-scrolls surmounting a suspending foliate trail, flanked by twisted foliate C scrolls and four foliate handles, the lower contour adorned with ormolu bands, the angles headed by large trellis cast acanthus leaves mounts on chute-edged tapering legs ending in clawed acanthus feet sabots.
Ref#C580
90 x 124 x 57 cm
Charles Cressent:
Charles Cressent (1685-1767) is indisputably the most representative craftsman of the Régence period when fashion started to turn to furniture finished with relatively simple wood veneers, but fitted with ormolu mounts of increasing sculptural quality and splendour. In this arena Cressent stood alone, his early training as a sculptor being more than evident in the originality and quality of the mounts which he produced. He became master sculptor in 1719 and a member of the Academy of Saint-Luc. He is recorded as both sculpteur and ébéniste to the Duc d'Orléans, and he was constantly in difficulties with the guild of fondeurs and doreurs because, in contravention of the guild rules, he chased and gilded bronzes in his own workshop. In many instances he had even supplied models, which he had created himself, to the casters. His defense against this was that it enabled him to supervise the quality of the work and to prevent unauthorized copies being made; it has to be said that his defiance of the guild regulations has left a legacy of ormolu mounts of unparalleled distinction.
Frédéric Louis Durand & Fils:
Gervais Durand was born in Paris on July 30, 1839. After 1870 he was a cabinet maker rue de la Cerisaie, number 12. He was so successful that in 1878 he had to move to another location, 23 rue Beautreillis. He won the silver medal at the world fair in 1889. Durand was both draughtsman and carpenter for his style furniture. He created beautiful copies of the great 18th century designers. In 1898 the company settled in the Hotel de Sully located 62 rue Saint-Antoine. In 1902, Gervais partnered with his son under the name "Durand et Fils" (Durand and Son). His son Frédéric Louis (1874-1933) took over the company when his father died in 1920. He himself partnered with his own son Pierre until the company closed out in 1933.
Tags