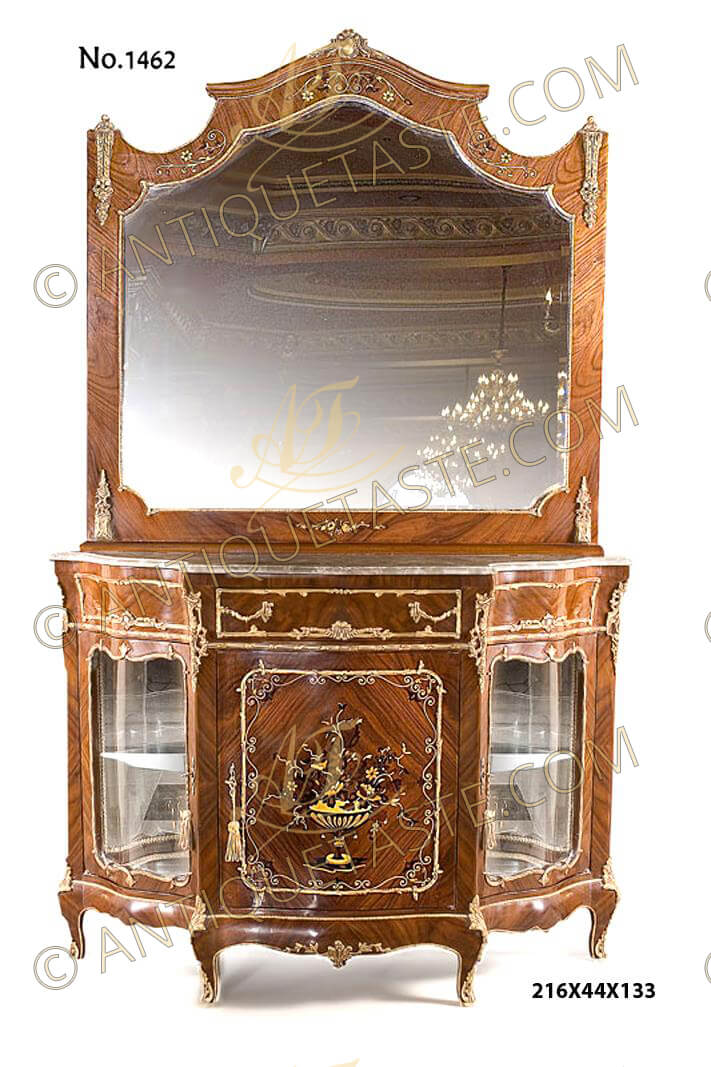 Ref#FC-1462 | Description
A fabulous French Transitional style ormolu-mounted veneer and marquetry inlaid entrance console cabinet with a matching mirror after the model by Henri Picard (1840-1890)
The domed top scalloped shaped mirror frame crested with central ormolu cabuson mount, cornered on top and bottom by a fine chiseled foliate ormolu chutes, the top and bottom frieze are inlaid with delicate foliage marquetry patterns. The internal mirror border shaped and bordered in ormolu C scrolls strips.
Resting on a serpentine shaped cabinet marble top above the apron with central drawer bordered with foliate scrolled ormolu trim and foliate handles, flanked by exquisite pierced acanthus ormolu chutes, the sides has the same ormolu trim as well,
The lower part has three doors, the central door has an inset panel with high quality exoticwood floral detailed marquetry with scrolled marquetry border within a leafy ormolu border and ormolu keyhole escutcheon, the mirrored back two doors on each side with one tier and glass front within a scalloped foliate border and ormolu keyhole escutcheons, all above a scalloped shaped apron,
The cabinet is raised on short cabriole legs ornamented with delicate chiseled gilt ormolu acanthus mount elongated with ormolu trim to the pierced foliate ormolu sabots, the contour of the apron decorated with an ormolu strip and foliage ormolu mounts to the central part.
Ref#FC-1462
216 x 44 x 133 cm
Henri Picard
Henri Picard (1840-1890) was a founder and gilder who worked in Paris from 1831 to 1884. Listed to the National Archives for its participation in the joint of the Tuileries and the Louvre from 1853 to 1865. His gilded bronze work is comparable in quality to the better known Francois Linke and Napoleon III is known to have commissioned work from Picard. The Louvre in Paris have an important pair of twelve-light candelabra by Picard in their collection. Picard Frères was founded in La Chaux-de-Fonds in Switzerland in 1857 and is still active today.
Tags