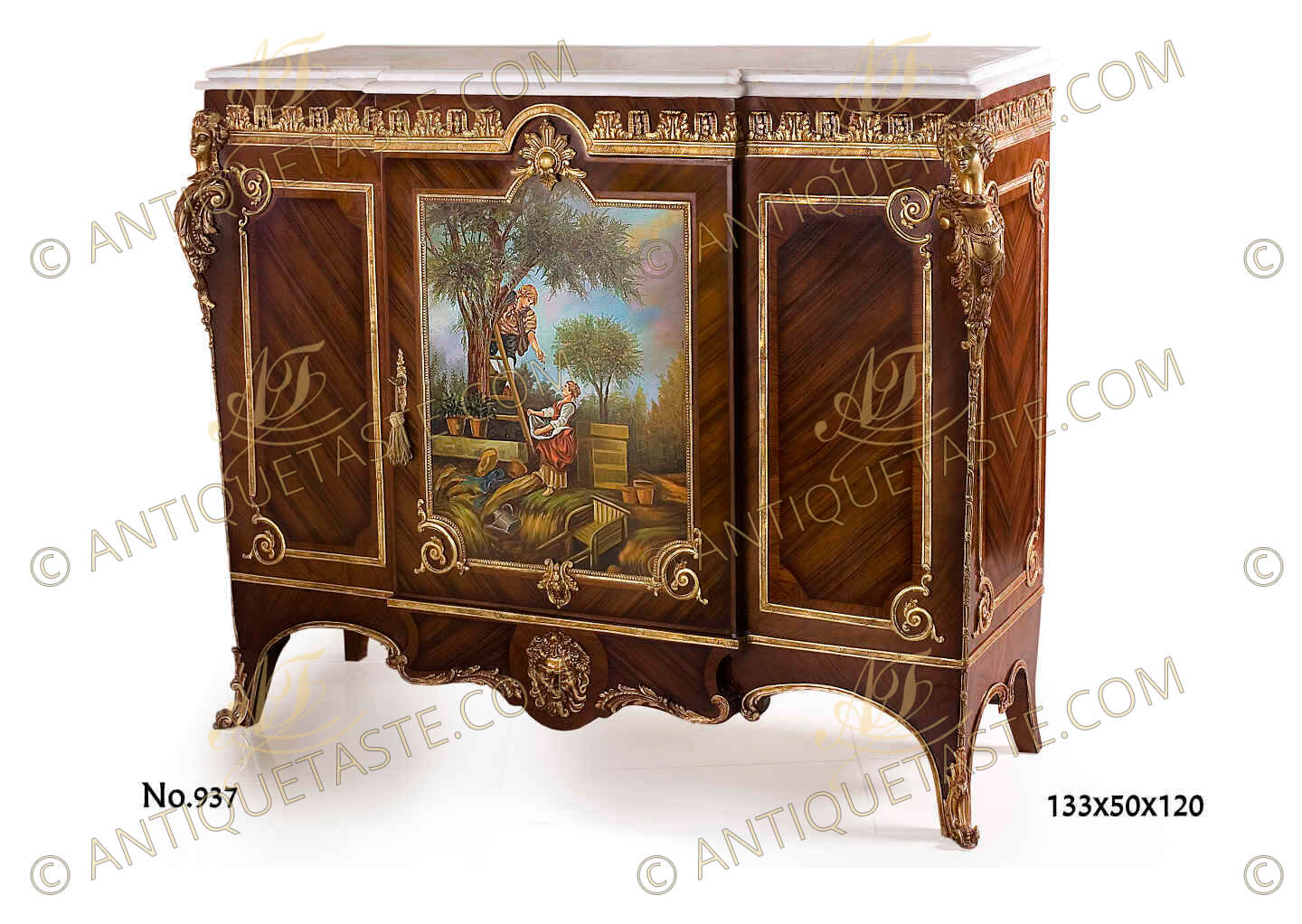 Ref#937 | Description
A Very fine ormolu mounted Louis XV and Vernis Martin style sans traverse veneer inlaid Meuble À hauteur d'appui after the model by Joseph Emmanuel Zwiener, late 19th century
The breakfront moulded marble above a conforming frieze ornamented with ormolu band of acanthus leaves, centered with a breakfront hand painted door with a Francois Boucher painting "The Cherry Picker" in vernis martin style within an ormolu beaded trim terminated to each corner with Rinceau style works centered with ormolu cartouche and crested with a very fine foliate cabochon and an ormolu keyhole escutcheon,
The central door flanked by faux doors with quarter veneer inlays in an ormolu border with Rinceau scrollwork finials, flanked by extraordinary chiseled and burnished large female busts extended by a hammered band to the scrolled ormolu sabots covering the splayed feet. The sides with sans traverse veneer inlays within the same ormolu ornamentation,
All above the scalloped frieze with C scrolled ormolu leafy acanthus trims centered by a superbly finished Satyr Mask.
Ref#937
133 x 50 x 120 cm
Joseph Emmanuel Zwiener:
Joseph Emmanuel Zwiener was born in Heidau, Snesia, circa 1848 and died in 1925. He is listed as working in Paris between 1880-1895 at the rue de la Roquette. Present scholarship suggests that Joseph Emmanuel Zwiener and the ebeiste Julius Zwiener, who worked in a remarkably similar style are the same maker. Joseph Emmauel is not recorded in Paris after 1895. At that point, the Paris workshop appears to have been taken over by another important emigre and ebiniste Francois Linke. It is thought that the sculptor Leon Mesange who orginally worked with Zwiener may have transferred to Linke's workshop when Zwiener ceased trading in Paris in 1895. THe high quality of the ebenisterie and the gilt-bronze mounts are characteristic of Zwiener's work. As Mesange worked for Linke and Zwiener in the same style, many of Zwiener's pieces have been attributed to Linke. In order to differentiate commissions, the bronzes were often marked on the reverse side with the maker's initials. Several of Zwiener's mounts have been found with a "Z", a "ZW", or "IZ", on the reverse. other pieces have been found with a signature and/or date. In 1889, the firm won a gold medal at the Exposition Universelle for a Jewel Cabinet. The jury noted "es ses debuts a une Exposition Universelle (il) s'est mis au premier rang par la richesse et le fini de ses meubles incrustes de bronze et fort habilement marquestes". In 1898, Julius Zwiener was commissioned to make an important bedroom suite for Kaiser Wilhelm II.
Tags