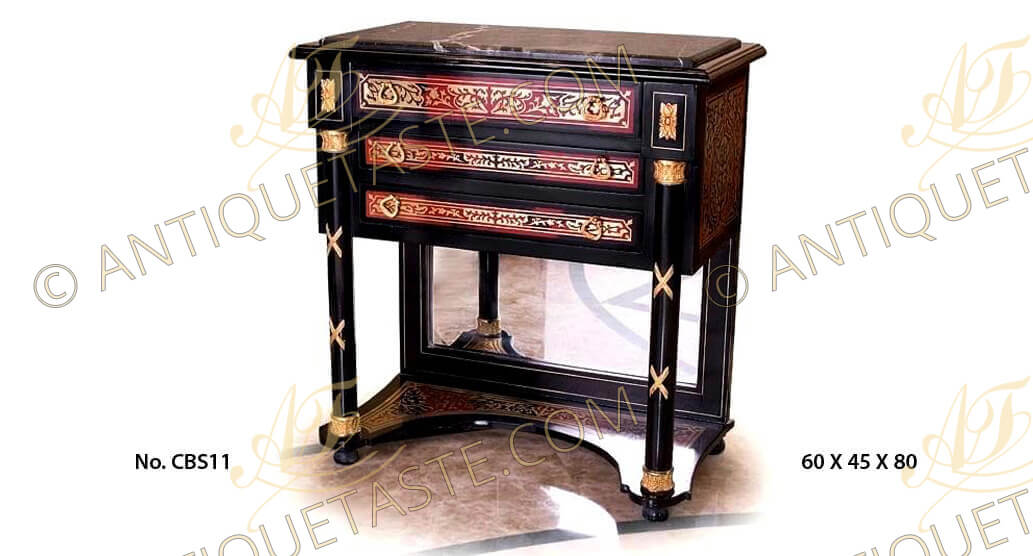 Ref#CBS11 | Description
An attractive French Louis XIV André-Charles Boulle style ormolu mounted cut brass and tortoiseshell inlaid ebony finished Chest of Drawers,
The black veined inset marble top in a moulded protruding frieze above brass Boulle style three drawers with ormolu lyre shape handles, flanked two block adorned with large ormolu rosettes above circular column supports headed and terminated with ormolu Corinthian style capital and base, decorated in the center with X shape ormolu ribbons, the sides are inlaid in tortoiseshell and brass Boulle style,
The chest has a mirror back within a frame with gilded filet above a bottom tier finished in Boulle style resting on four ball feet.
Ref#CBS11
60 x 45 x 80 cm
André-Charles Boulle
André-Charles Boulle (1642–1732) was one of the first cabinetmakers to make effective use of gilt-bronze mounts, and considered to be the preeminent artist in the field of marquetry, even "the most remarkable of all French cabinetmakers by his contemporaries as "the most skillful artisan in Paris,
" André-Charles Boulle's name is synonymous with the practice of veneering furniture with marquetry of tortoiseshell, pewter, and brass. Although he did not invent the technique, Boulle was its greatest practitioner and lent his name to its common name: boulle work. Boulle also specialized in floral marquetry in both stained and naturally colored wood. Many of his designs are illustrated in a book of engravings published around 1720.