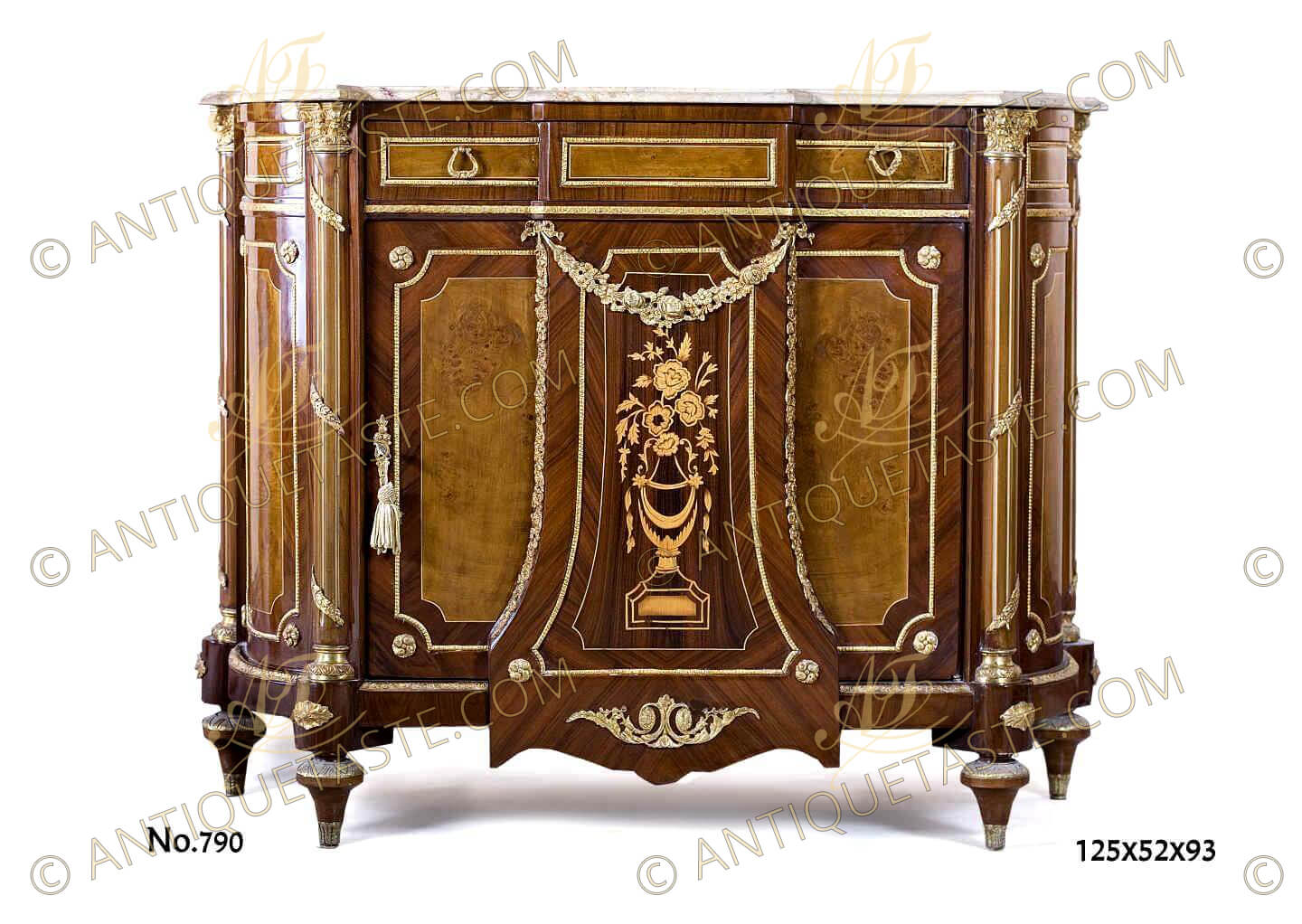 Ref#C-790 | Description
A sophisticated Louis XVI ormolu-mounted veneer inlaid Meuble D'Appui after the model by François Linke, early 20th Century, inspired by the celebrated commode executed in 1778 by Jean-Henri Riesener for the Cabinet de Retraite of King Louis XVI at the Château de Fontainebleau,
The breakfront marble top above a conforming double veneer inlaid breakfront large drawer with ormolu lyre shaped handles and beaded ormolu trim, the central breakfront cupboard door, double veneer inlaid as well, ornamented by a masterfully chiseled ribbon-tied swaging garlands and extending to the sides with suspending swaging imbricated blossoming floral garlands; the central part is inlaid with a marquetry pattern of flower-filled vase surrounded with bead-molded encadrement cornered to the lower part with berried rosettes over a breakfront apron applied to the front with pierced acanthus scrolls, the central door is continued with the same beaded trim and four berried rosettes to each corner and floral ormolu keyhole escutcheon; flanking the central door two circular fluted columns topped with fine chiseled Corinthian style ormolu capitals, winding ormolu leaves and terminated by hammered ormolu caps,
The sides have faux drawers and doors with the same design and raised on foliate-capped toupie feet with ormolu sabots topped with leaf ormolu mounted blacks and ormolu strip.
The original commode was later moved to the King's bibliothèque at the Château de Versailles, and acquired in the early 19th century by Alexander Douglas-Hamilton, 10th Duke of Hamilton, and was later owned by the Barons Nathaniel and Albert von Rothschild. It is now in the permanent collection of the Château de Fontainebleau.
François Linke purchased a set of patterns for the commode at the Cueunières sale in November 1902 at a cost of 209 francs. He produced faithful reproductions of the model (see Sotheby's New York, 15th October 2015, lot 121), as well as reinterpreting the design to create new cabinets, listed under various index numbers in the Linke archive. The present lot is listed as index 1437, and is the same cabinet that appears in the cliché reproduced here.
Ref#C-790
125 x 52 x 93 cm
Tags