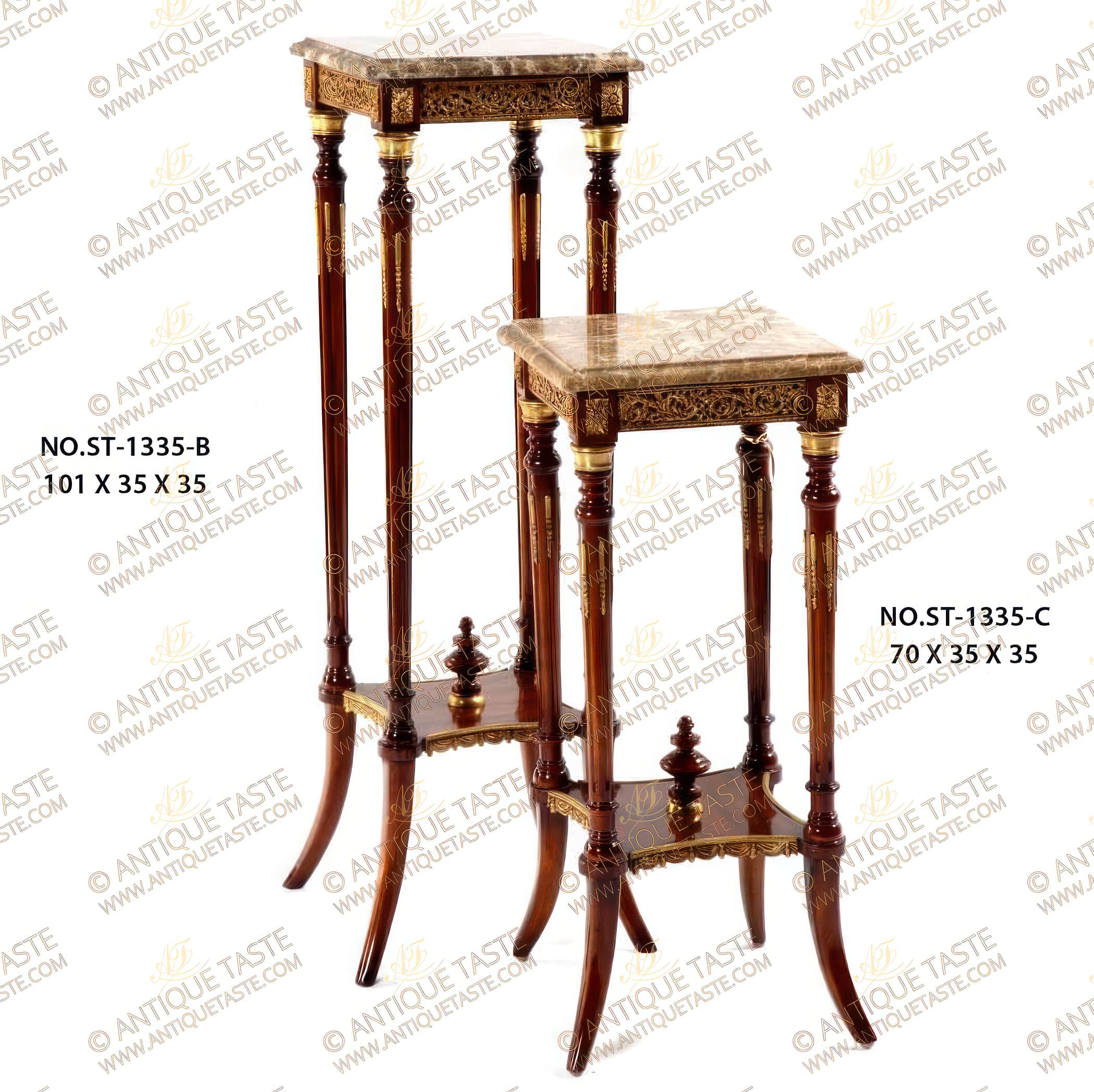 French early 19th Century Louis XVI style ormolu-mounted veneer inlaid and marble topped fluted supports square shaped tall Pedestal Table after the model by François Linke
Ref#ST-1335-B | Description
A tasteful French early 19th century Louis XVI style ormolu-mounted tall square shaped Pedestal Table after the model by François Linke;
The upper tier is surmounted with a mottled border square marble top above a conforming frieze ornamented with stunning pierced foliate scrolled Rinceau shaped ormolu movements of richly chased acanthus leaves and separated above each support by a wooden block inlaid with a rectangular ormolu rosette to each; all above two levels ormolu and wooden mottled caps following to four circular tapering fluted supports adorned with delicately fitted ormolu chandelles and terminated with other mottled caps;
The supports are connected in the lower section by concaved sides veneer inlaid lower tier forming an X-stretcher embellished with a central topie shaped finial and accented on sides with finely chiseled ormolu band of draped fabrics and tassels design surmounted with a beaded pattern; all above the splayed tapering robust legs.
The elegant pedestal table is available in two sizes per request as displayed.
Ref#ST-1335-B | H:101 x W:35 x D:35cm
Ref#ST-1335-C | H:70 x W:35 x D:35cm
Louis XVI Style | François Linke
François Linke
Francois Linke (1855-1946) was arguably the leading Parisian cabinetmaker of the Belle Epoque the glittering age of fashionable French society, whose influence was felt throughout the world.
Determined to outshine the competition at the Exhibition, Linke had set about creating the most ambitious pieces he could envisage, and more extravagant than had ever been displayed before. The items he exhibited marked a transition from the historicist interpretation of Louis XV and Louis XVI styles, an interpretation that was the mainstay of his nearest rivals, to something startlingly new and vital in its immediacy. Together with Leon Message he developed a new style for the 1900 Exhibition that paid homage to the Louis XV rococo in the fluidity of its approach, but an approach fused with the lively flowing lines of the contemporary and progressive 'art nouveau'.
This risky endeavour was a resounding success, and with his reputation established, La Maison Linke became the pre-eminent furniture house until outset of the Second World War. The technical brilliance of his work and the artistic change that it represented was never to be repeated. His showrooms expanded into prestigious premises in Paris, in the Place Vendome as well as the Faubourg St. Antoine where his workshop had been established. He embarked on many important commissions in the years up to the outbreak of the First World War, making and designing furniture for leading international industrialists and bankers.
After the 1914-1918 World War, Linke undertook the extraordinary commission to furnish the Ras al-Tin Palace in Alexandria for King Fuad of Egypt, possibly the largest single furniture commission ever conceived, eclipsing even Versailles. Linke flourished and remained active until the middle years of the 1930s and died in 1946.