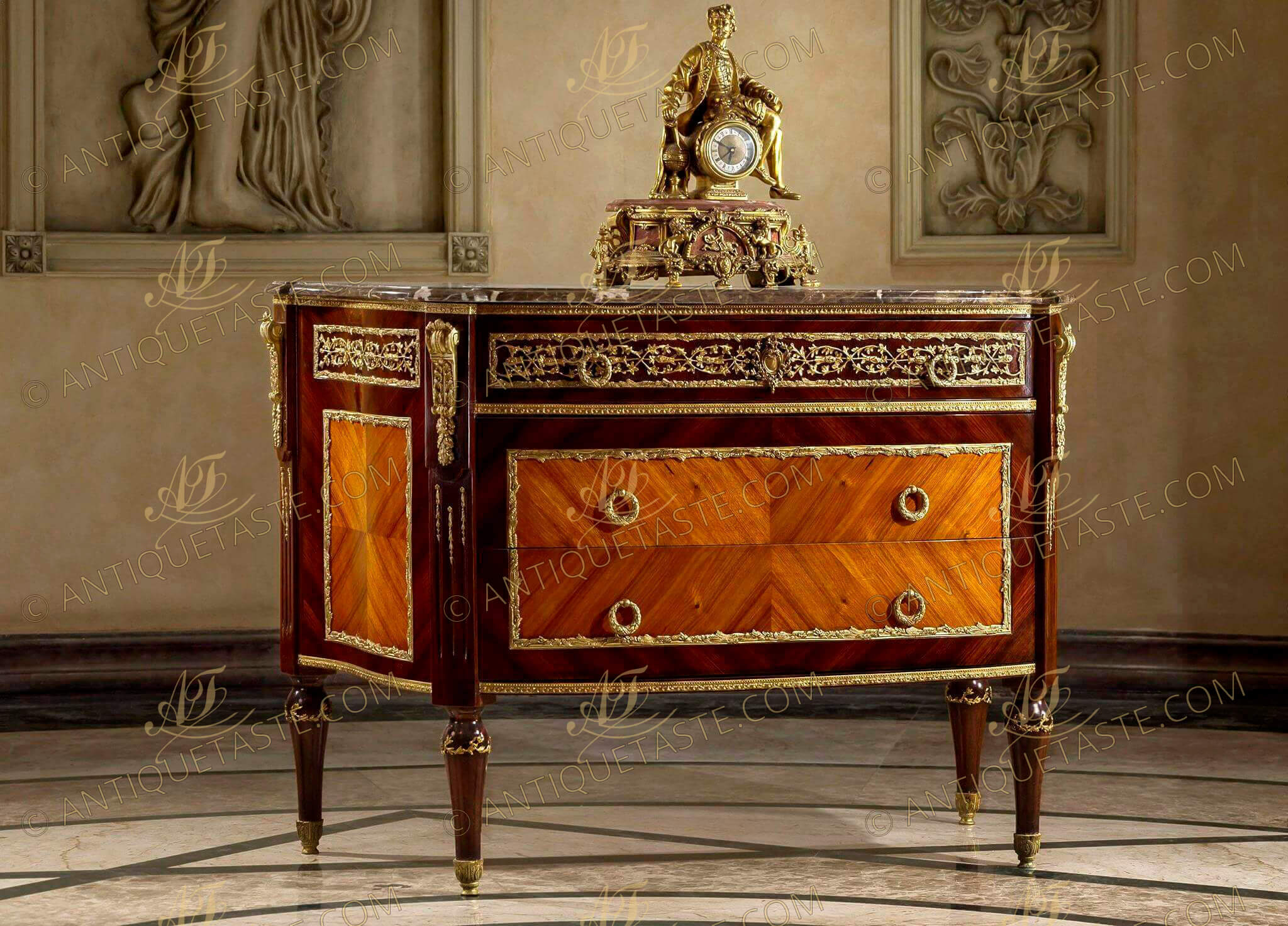 Ref#1761 | Description
A Louis XVI style gilt-ormolu mounted quarter veneered commode after the model by Jean-Francois Leleu and François Linke Paris, circa 1900 Of 'D'-form surmounted by a fine veined eared marble top, above a panelled ormolu-vine-mounted frieze drawer, and boxwood stringing above a pair of quarter-veneered panelled drawers with reeded ring handles all within fine foliage ormolu encadrement, the fluted angles ornamented with ormolu floral chandelles and headed with scrolled acanthus and oak-leaf clasped volutes, on ormolu ornamented circular tapering legs terminating in acanthus-capped feet.
The original commode, on loan from the Petit Trianon, is shown in a line engraving in the retrospective part of the Exposition de l' Union centrale des arts décoratifs, Paris, 1882, De Champeau & Others, 'Les arts du bois,' pub. Quantin, 1883, p. 80. The commode entered the Petit Trianon in 1867 on the occasion of an earlier exhibition dedicated to the memory of Marie-Antoinette, organized under the patronage of the Empress Eugènie. The original now at Versailles was first recorded in 1796 in the Luxembourg Palace and, although as yet not related to any commission prior to 1796, one might imply a important noble provenance.
Ref#1761
140 x 80 x 55 cm
Jean-François Leleu
A hot-tempered man, Jean-François Leleu was one of the most distinguished Parisian ébénistes of the latter part of the eighteenth century. Leleu completed his apprenticeship in the workshop of the renowned ébéniste Jean-François Oeben; after his master's death in 1763, he undoubtedly hoped that Oeben's widow would make him head of the shop. She, however, favored Leleu's rival Jean-Henri Riesener and eventually married him in 1767. This so upset Leleu that fighting erupted between the two men and the police had to intervene. Leleu's jealousy and disappointment was probably exacerbated by Riesener's Germanic origin. Native French members of the furniture-making guild strongly resented the influx of foreign craftsmen, especially Germans, into the Paris guild system.
Leleu, seeing no future in the Riesener workshop, left in 1764 and became a master in the same year. He quickly established himself on his own and soon counted Louis XV, the king of France, the king's mistress Madame du Barry, and the Prince de Condé among his clients. Leleu worked in lacquer, with Sèvres porcelain plaques, and in marquetry, with both pictorial and geometric patterns. His talent for creating complicated mechanical fittings and locks, together with his expertise in marquetry, were techniques he learned from his master Oeben.
Tags