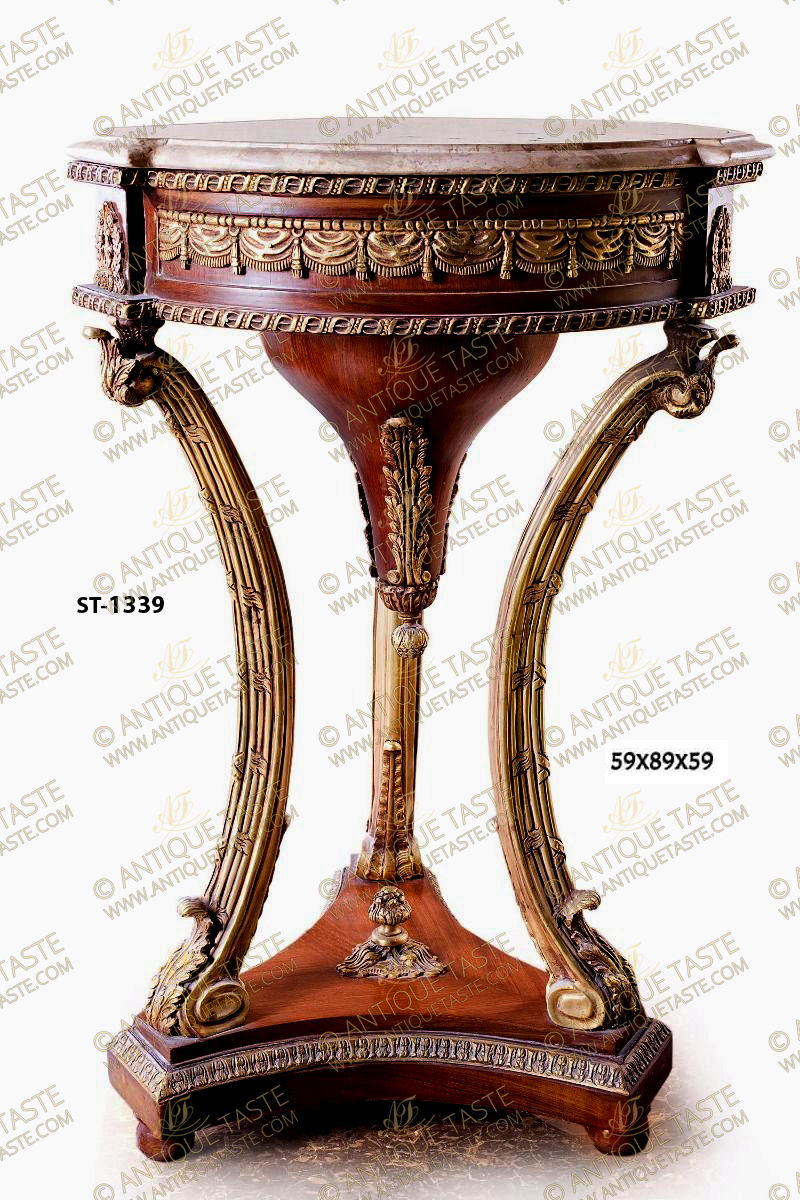 A French Napoleon III Second Empire style ormolu-mounted veneer inlaid Royal Athénienne form Pedestal
Ref#ST-1339 | Description
French Napoleon III Second Empire style ormolu mounted veneer inlaid Athénienne form Pedestal/ Tripod Plantstand;
The shaped circular marble top rests on shaped ormolu mounted blocks of the conforming frieze which is ormolu adorned with scalloped draperies and brass bands, the faux bulbous reservoir beneath with gilt ormolu acanthus leaves descending to an ormolu pineball terminal, the top part above three inward curved ormolu supports finely chiseled with acanthus leaves finials all above an incurved tripartite base with leaf-and-dart ormolu rim, central leafy acorn finial and three bun feet.
The design of this pedestal draw its inspiration form the Classical incense burner which had a tripod stand and commonly known as Athénienne. Sir F.J.B Watson, ex director of the Wallace Collection, London, from 1963 to 1974 and Surveyor of the Queen's Works of Art from 1963 to 1972, while discussing the Wrightsman's Athénienne, now in the Metropolitain Museum of Art, gift of Mrs. Charles Wrightsman in 1993, leads us to a variant showing in a painting by Charles LePeintre (1736- d. circa 1803) of the Duc de Chartres and his family. The Duc de Chartres was Louis Philippe Joseph d' Orléans (13 April 1747 – 6 November 1793) commonly known as Philippe Égalité and was the father of King Louis-Philippe I. interestingly in the original painting one can see the Duke entering a room from the right and greeting his wife, who is sitting on a sofa with their two children, and a tripod table.
The revival of the Athénienne in the decorative art was put back in fashion circa 1773, by J.-H. Eberts, banker and editor of the Monument du Costume. Eberts describe his new form of furniture in the accompanying caption as " Nouveau Meuble/Servant/de console/de casolette/de pot de Fleurs/de Terrasee/de reservoir" and it is very likely possible that Eberts draw his inspiration from a painting he owned by J. M Vien, showing an athénienne.
The multi-purpose athénienne was intended for entertaining in the salon or boudoir and was accordingly fitted with casters and an ormolu-mounted patinated copper cassolette, silvered on the inside and containing a removable spirit lamp, above which was set a tin-plated double boiler, surmounted by a marble slab and a patinated copper cover. The usage of the athénienne was either an ornament and focal point in the middle of a room or a table under a pier mirror , or in a corner, or as a pedestal to support a candelabrum or a piece of sculpture or a perfume burner or a heater for making coffee, tea, or chocolate or a goldfish bowl or a planter to grow bulbs in winter or a bowl for cut flowers or a device for keeping bouillon or other drinks warm.
Ref#ST-1339
H:89 x W:59 x D:59cm
Napoleon III style | Second Empire Style
The Napoleon III style | The Second Empire Style
The Napoleon III style, also known as the Second Empire style , is a highly eclectic style of architecture and decorative arts, which uses elements of many different historical styles, and also made innovative use of modern materials, such as iron frameworks and glass skylights. It flourished during the reign of Emperor Napoleon III in France (1852–1871) and had an important influence on architecture and decoration in the rest of Europe and North America. Major examples of the style include the Opéra Garnier (1862–1871) in Paris by Charles Garnier, the Bibliothèque nationale de France, the Church of Saint Augustine (1860–1871), and the Philadelphia City Hall (1871–1901). The architectural style was closely connected with Haussmann's renovation of Paris carried out during the Second Empire; the new buildings, such as the Opéra, were intended as the focal points of the new boulevards.
Comfort was the first priority of Second Empire furniture. Chairs were elaborately upholstered with fringes, tassels, and expensive fabrics. Tapestry work on furniture was very much in style. The structure of chairs and sofas was usually entirely hidden by the upholstery or ornamented with copper, shell, or other decorative elements. Novel and exotic new materials, such as bamboo, papier-mâché, and rattan, were used for the first time in European furniture, along with polychrome wood, and wood painted with black lacquer. The upholstered pouffe, or footstool, appeared, along with the angle sofa and unusual chairs for intimate conversations between two persons (Le confident) or three people (Le indiscret). The crapaud (or toad) armchair was low, with a thickly padded back and arms, and a fringe that hid the legs of the chair.
The French Renaissance and the Henry II style were popular influences on chests and cabinets, buffets and credences, which were massive and built like small cathedrals, decorated with columns, frontons, cartouches, mascarons, and carved angels and chimeras. They were usually constructed of walnut or oak, or sometimes of poirier stained to resemble ebony. Another popular influence was the Louis XVI style, or French neoclassicism, which was preferred by the Empress Eugénie. Her rooms at the Tuileries Palace and other Places were decorated in this style.