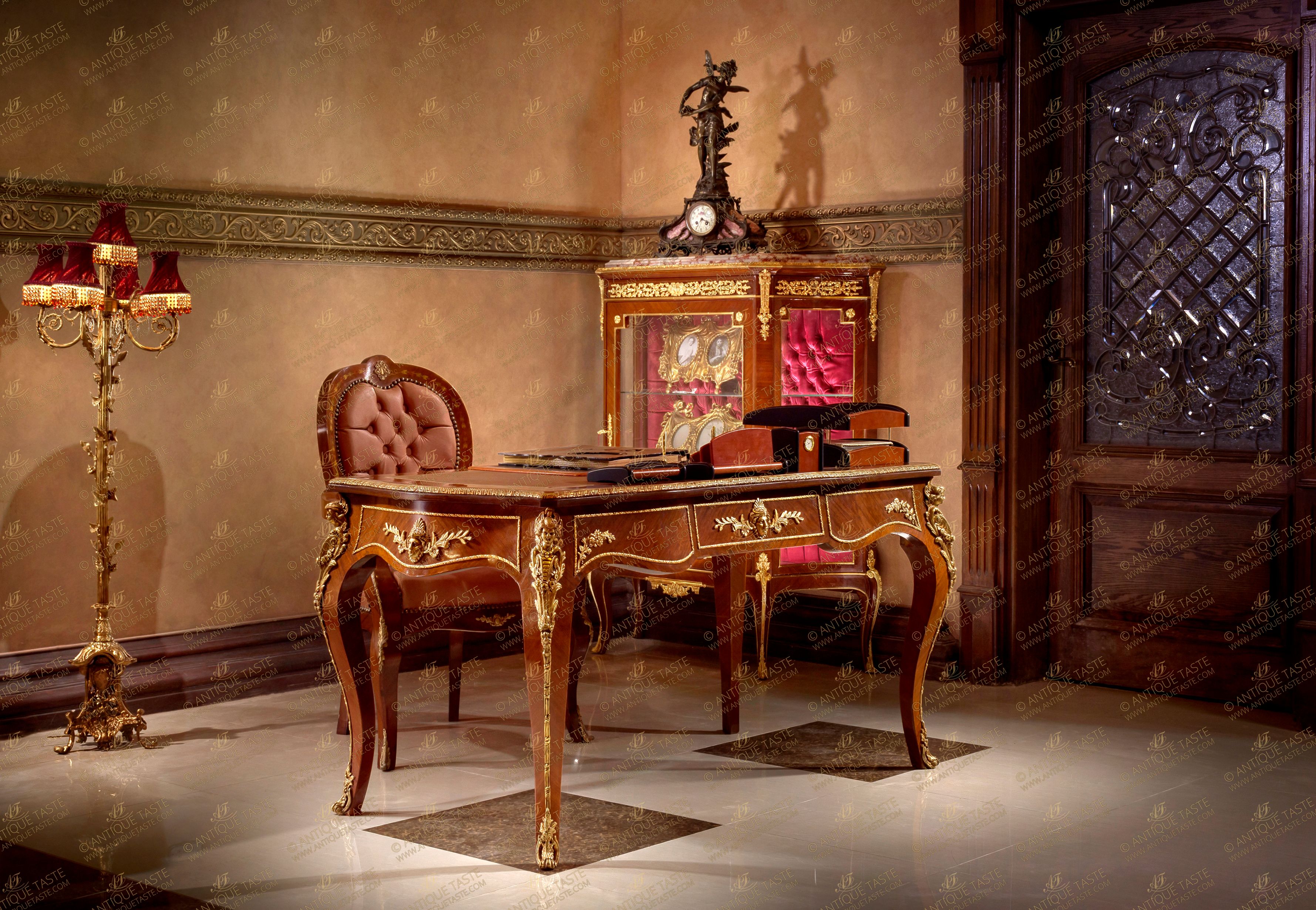 French 18th century Louis XV style ormolu-mounted sans-traverse veneer inlaid leather top palatial Bureau Plat after the model by Cabinetmaker Pierre Bernard Ébéniste
Ref#D-1614 | Description
A very attractive and supreme quality French 18th century Louis XV style ormolu-mounted sans-traverse double veneer inlaid palatial executive Bureau Plat after the model by Pierre Bernard La Maître Ébéniste;
The desk is raised by impressive robust cabriole legs terminating with foliate pierced scrolling ormolu sabots extended with hammered fluted ormolu strap to the top where each leg is adorned with exquisite and richly chased ormolu busts of a classical maiden ornamented with and anthemion from headdress, foliate works, acanthus leaf volutes and blossoming garlands;
The arbalest shaped apron has three drawers with foliate handles, all within ormolu borders, the drawers on the sides are decorated with corner thriving branch, the central drawer, the faux back and the sides are finely embellished with a central ormolu mount of a wigged female mask with leafy headdress amidst flourishing foliate works and a braided hair outspread under the chin;
The arbalest shaped veneer crossbanded leather topped surface is decorated with a leaf and dart on cyma recta ormolu gallery surrounding.
D-1614
H:80 x W:160 x D:80cm
Louis XV Style | Pierre Bernard Ébéniste
Pierre Bernard Ébéniste (1715 - 1770)
Pierre Bernard Maître Ébéniste was one of the best cabinetmaker of the time of Louis XV, stamped his furniture "ébéniste" to distinguish himself from the menuisier of the same name. In 1744 he opened his shop on the rue du Faubourg-Saint-Antoine and received the title "ébéniste privilégié du Roi suivant la cour".