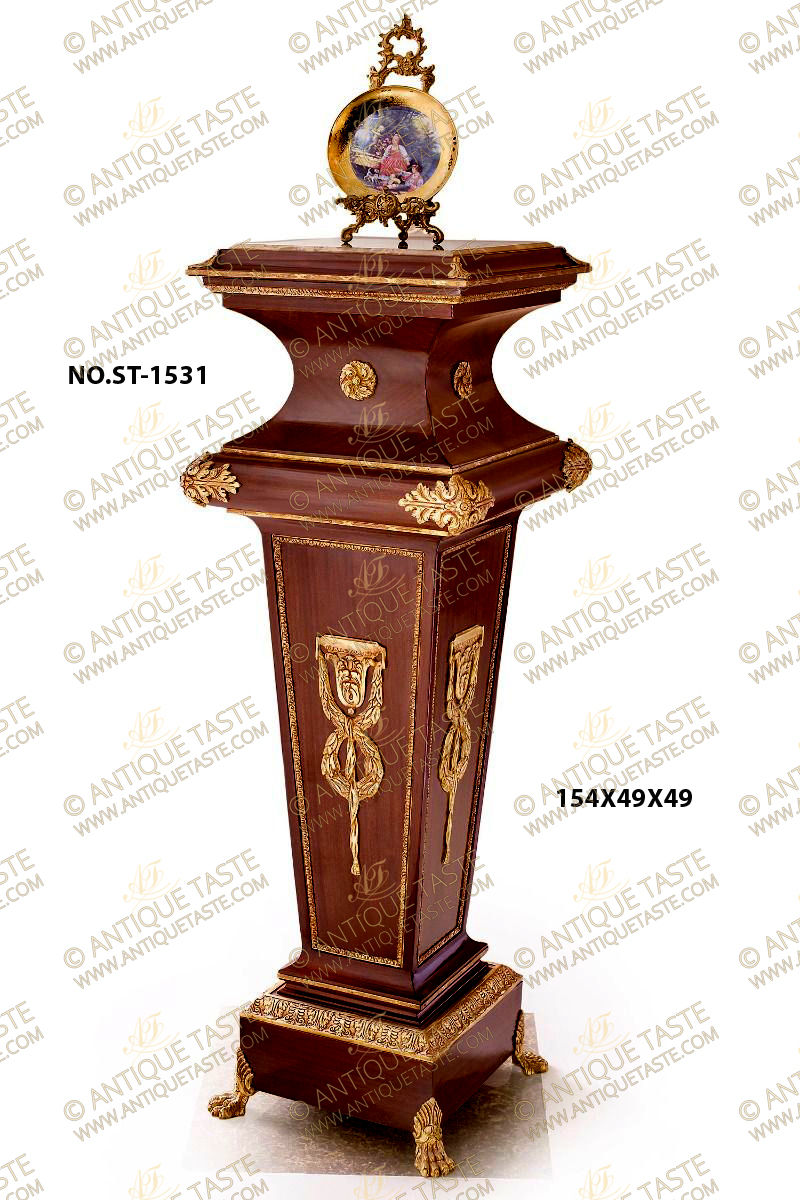 French late 19th Century Louis XVI Neoclassical style ormolu-mounted veneer inlaid Grand Pedestal Stand after the model by Paul Sormani
Ref#ST-1531 | Description
A Glamorous and monumental French late 19th Century Louis XVI Neoclassical style ormolu-mounted and reddish brown veneer inlaid Pedestal after the model by Paul Sormani
The inset marble top in a stepped double ormolu bordered platform and acanthus leaf cornered, above a concave shaped neck adorned in center with a flower rosette, the astragal below in a convex form ormolu decorated with a large double acanthus leaf to each corner and with ormolu bands up and down,
The tapering form recessed body below is framed to each side with a hammered ormolu encradement and centered with exquisitely chiseled large royal gilt ormolu mount of hanging papyrus issuing knotted swaging imbricated bay leaves, the body ends in a fluted ormolu rimmed base resting on square plinth surmounted with a fine cast Acanthus Cyma Reversa style ormolu trim and raised on intricately finished leafy paw feet sabots.
Ref#ST-1531
H:154 x W:49 x D:49cm
Paul Sormani | Louis XVI | Neoclassical Style
Paul Sormani
Paul Sormani established the firm in 1847 at 7, Cimetière Saint-Nicholas in Paris. The location was then changed in 1854 to 114, Rue du Temple, and in 1867 to 10, rue Charlot. He was present at all the major exhibitions with petits meubles de fantaisie , as well as excellent quality reproductions of some of the Garde Meuble National items.
The firm won a bronze medal in 1849 and une médaille de première classe in 1855. At the 1867 Exposition Universelle, his work was described as such: " toute sa production révèle une qualité d'exécution de tout premier ordre"(the whole of his production exhibits craftsmanship of the highest quality).
When Sormani passed away, his son, Paul-Charles took over his father business alongside his mother, Ursule-Marie Philippine, hence the company"s name change to Sormani Veuve Paul et Fils. In 1914 Paul Charles Sormani formed a partnership with Thiebault Frères, and the firm was moved to 134, Boulevard Haussmann, where it remained until its closure in 1934. The furniture production was of the highest quality in the style of Louis XV and Louis XVI. An identical cartonnier was exhibited by Paul Sormani at the Paris 1900 Exhibition (Art Journal Catalogue, 1900, copied from the period desk in the Hamilton Palace sale.