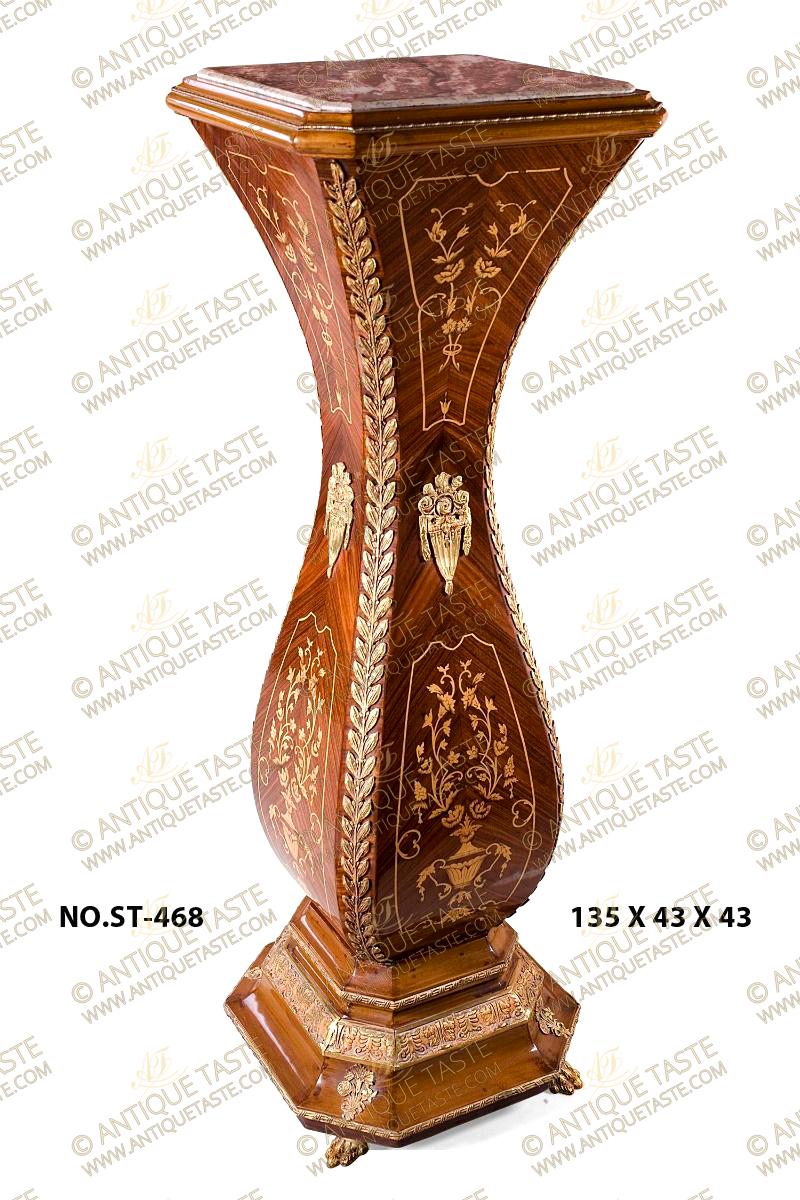 French Louis XV style ormolu-mounted veneer and exotic marquetry inlaid bulbous form bombé shaped grand Pedestal inspired of the model after Gilles Joubert circa.1772
Ref#ST-468 | Description
A captivating and very charming French Louis XV style ormolu-mounted sans-travers veneer and exotic floral marquetry inlaid bombé shaped and bulbous form grand Pedestal Stand inspired of the model after the great Parisian Cabinetmaker Gilles Joubert circa.1772;
The inset veined marble top within a Torus form projecting leveled canted corners cornice adorned with a hammered ormolu band above the inlaid bombé shaped bulbous form body which is beautifully inlaid in sans-traverse veneers and gorgeous marquetry panels on each side of Rinceau blossoming flowers within a delicate scrolling filet encadrements on the upper part and on the lower part a marquetry urn issuing Rinceau style blossoming scrolling flower bouquet and vine leaves within another sensational scrolling filet encadrements;
Each corner is embellished with a finely chiseled long ormolu mount of bayberry imbricated Laurus Nobilis garland; the body center is adorned with another professionally moulded ormolu mount of an Urn of Prosperity issuing blossoming flower and suspending branches;
The grand pedestal is raised on a leveled Corinthian style plinth ornamented with pair of reel ormolu bands and central wide acanthus leaves ormolu trim plus pierced ormolu flower bouquets on the four corners, all above the ormolu lions leafy paw feet.
Ref#ST-468
H:135 x W:43 x D:43cm
Louis XV Style | Gilles Joubert Ébéniste
Gilles Joubert
Gilles Joubert (1689–1775) was a Parisian ébéniste who worked for the Garde-Meuble of Louis XV for two and a half decades, beginning in 1748, earning the title ébéniste ordinaire du Garde-Meuble in 1758, and finally that of ébéniste du roi ("royal cabinet-maker") on the death of Jean-François Oeben in 1763. He produced case furniture in a robust Rococo style, ranging from simple veneered bidets to grand commodes that integrated gilt-bronze mounts into the forms of furniture with subtle three-dimensional curves (bombé). From the later 1760s his furniture increasingly shows a conservative compromise with the nascent neoclassical style. The date of Joubert's admission to the corporation des maiîtres ébénistes is missing, along with the early guild archives, but he was already syndic in 1749-50.
Much of his furniture was produced before Parisian guild regulations required ébénistes to stamp their production, and pieces intended for the royal Garde-Meuble were exempt from such regulations; however, the minutely-detailed inventory descriptions of the Garde-Meuble de la Couronne and inventory numbers stencilled on surviving furniture have enabled scholars to identify a number of pieces from Joubert's workshop. Francis Watson suggested that Joubert's marriage to a relative of Pierre II Migeon, a favoured cabinet-maker of Mme de Pompadour, may have brought him to her attention and likely through her to court commissions. For the Château de Choisy he produced, with the engineer Guérin, the famous table volante that rose through the floor for private suppers. In the decade following 1763 he supplied 2200 pieces of furniture to the court; under the pressure of such a volume of commissions, he was obliged to subcontract even some important pieces of furniture: the roll-top desk he delivered to the comtesse de Provence, 30 December 1773, (Museu Calouste Gulbenkian, Lisbon) was actually made by Jean Henri Riesener, who would succeed him as ébéniste du roi. In the Frick Collection, New York, is a royal commode delivered by Joubert in 1769 but stamped by Roger Vandercruse Lacroix.
Among his most celebrated pieces are the corner cupboards (encoignures) made in 1755 for Louis XV's Cabinet de Médailles at Versailles (Bibliothèque nationale). Not all the furniture delivered by Joubert received a favourable reception: a bombé commode painted with flowers on a white Vernis Martin ground (now yellowed), with silvered-bronze mounts, delivered 11 January 1755 for Madame Adelaïde at Versailles, was returned to the Garde-Meuble the same day. In June 1774 the octogenarian Joubert contracted with Riesener to assign the younger man his workshop and its contents with the good will of his clientele. [Getty Museum] | [Met Museum]